Hardwood Flooring Sand and Refinishing
One of the huge benefits of investing in hardwood flooring for your home is the unique opportunity for you to have your floors refinished every few years rather than having to go through the time and investment of new floors. Sanding and refinishing hardwood floors extends their life in a big way!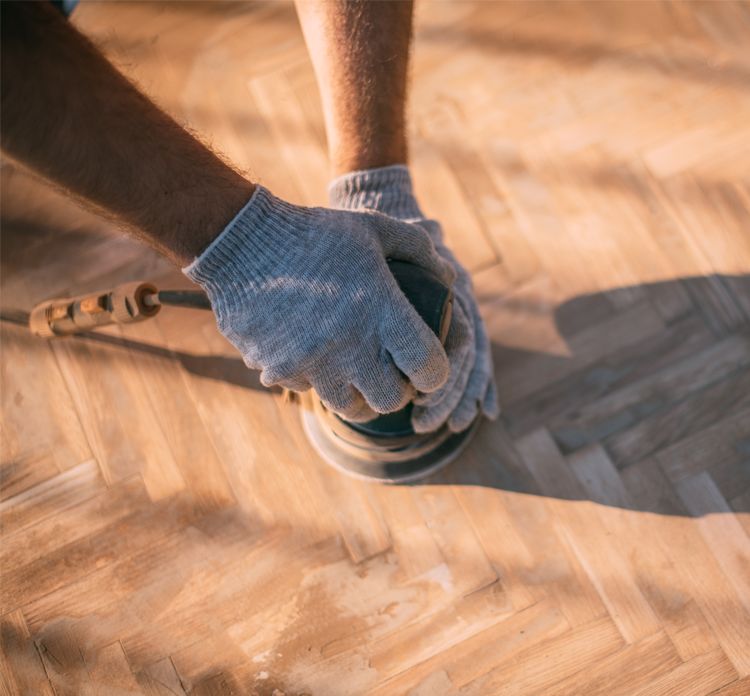 Hardwood floors can have the potential of getting scuffs and scratches over time. Damaged floorboards can cause problems that vary from being a safety hazard to an opportunity for unwanted to bests to inhabit the area. Having your hardwood floors refinished is part of the recommended maintenance that comes with hardwood flooring, and it will ensure that these types of issues are dealt with every few years (or more often if needed). Professional refinishing is much more cost effective than replacing the entire floor, and the results are incredible!
Sanding and refinishing hardwood floors offers amazing results. You will see the scratches and dents disappear with the sanding and buffing. Once that has been finished your floors will receive a brand-new finishing coat that will restore their shine and glory to a very new look. Who doesn't want to have stunning floors? We know you do!
If your hardwood floors have any damaged planks, it is not only unpleasant to look at, but it can be a hazard. Splinters or other minor abrasions on the feet can become a problem. During the sanding and refinishing process, our professional team will address any hazards they come across and will either sand them down, so they are no longer an issue or recommend replacing any troublesome areas. This is an important part of your regular floor maintenance.
One of the first things people notice upon entering a home is the floors. Having guests over you may ensure that your floors are properly mopped and look beautiful. The same standard applies if you are putting your home on the market. A perspective buyer will notice the flooring. They are not going to be interested in a home that has damaged and scratched floors throughout, however if your floors are kept up and you maintain them every few years, this will have a major impact on the value of your home and what a potential buyer will be willing to pay.
Carpet City in Fairfax, VA can talk to you more about the ins and outs of sanding and refinishing. We have a knowledgeable staff who is ready to talk to you about the benefits of this process and how it will help to extend the life of you hardwood floors.
Not Sure Where To Start?
Contact Us Today, We Are Here To Help
Featured Flooring Brands & Technologies